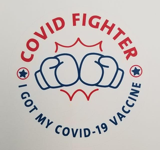 As someone who has been privileged enough to get vaccinated for COVID-19, I am still worried all the time. The news I really want to hear is that the vaccine will not only suppress my illness, but will also prevent me from passing it onto my patients. This potential for community protection would be the greatest gift and our best chance at returning to normalcy.
Of course , as we all continue to adhere to mask and hygiene protocols, let's remember not to surrender all our energy to the virus. The core things that mattered before are still important. Taking care of of our minds and bodies and our loved ones. Being kind and thoughtful to others and helping when we can.
I hope all my patients and clients know I will always make time to answer their questions, make them feel safe and continue to work in their best interest. And if you are in recovery from COVID-19 and are struggling to regain normal function/endurance, PT can guide and support you.