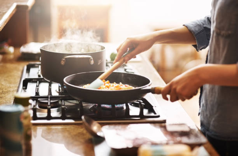 I don't know about you but every time I cook, I make a mess! Everything between prepping to plating leaves countertop, floors, cutting boards, and gas tops messy to some extent.
But none of this is surprising. We all expect to clean up after preparing a meal. And new recipes often mean there will be trial and error and not everything will turn out perfect.
As the new year embarks and you try joining a gym or taking a different fitness class, I think it's important to view exercise in the same way that you would cooking a meal.
Not everything will work out, you may not like it, you won't look pretty, you may have to modify things if you don't have the right "ingredients", and it won't all go smoothly from the beginning. In fact, it might be a mess!
There will be a learning curve but you will become more proficient, learn what works for you, and in time, be able to produce the results you want. And, as with any meal, its always more fun to share than go it alone!